Why choose Orthodontics
Our practice is committed to serving you and we are proud to offer the finest and most current orthodontic care available. We love seeing new patients and we enjoy the excitement that they bring to our office. We welcome the opportunity to work with you to create a healthier and more pleasing smile. In our office we strive to give each patient friendly and personalized attention. Every effort is made to attend to your needs in a caring and timely fashion. We consider each staff member an important part of our team and strive for delivering the highest quality care.
Our Team
Our team members are extensively trained in all aspects of orthodontic services. We regularly conduct training sessions and attend continuing education courses to keep abreast of the latest techniques and information available to our profession. We believe that we offer the finest care in the team-delivered orthodontic experience. As a team we are always seeking to learn, communicate and enjoy each day with our patients. In addition, we are committed to continuing to be the best at what we do for our patients.
Quality
To assist your efforts to educate yourself we want to assure you that safety and quality are always on our minds. Our goal is to provide patients with the highest quality products available and to ensure that a maximum level of safety is always maintained in our practice, so that you may feel comfortable during your visits. Below we will review some of our routine quality policies:
No reuse of braces or wires: It is common practice in many orthodontic offices today to utilize "second-hand" and "recycled" braces and wires. We feel that each patient deserves the best, therefore, in our office, we do NOT "re-use" the same braces or wires on a second patient. Thus, our fees may be somewhat higher than in an orthodontic office where second-hand braces and wires are used. We work hard to keep our costs down but not at the expense of our patients.
The highest quality materials: The quality of the braces, wires and removable appliances used can differ, just like the difference in quality available in the various household items that you purchase. We use only the highest quality orthodontic materials in order to provide you the very best treatment.
Heat-activated wires: Orthodontic wire is now available with the ability to reactivate itself whenever the patient rinses with warm liquids. This means that teeth move more efficiently with fewer appointments and more convenience to our patients. Treatment time is reduced dramatically with the use of these advanced wires.
Barrier Controls: We wear protective facemasks, eyewear, and gloves as recommended by the Federal offices OSHA and the CDC.
Sterilization: All of our dental handpieces are thoroughly sterilized with a steam autoclave after each procedure, as this is the only effective handpiece sterilization method. All of our other orthodontic instruments are thoroughly dry-heat and sterilized.
Individual set-ups: All of our instruments are organized on an individual tray as a set-up for each individual procedure on each patient.
Disposable items: These are used whenever possible and are always discarded once used or exposed to the treatment environment.
Individualized treatment planning: No two patients have exactly the same problems. Some orthodontic problems are very minor in nature and some are quite severe, so it is important that each patient is treated according to their individual needs. In our office, the treatment plan for each patient is tailored specifically to their individual needs using the most current computer imaging programs available.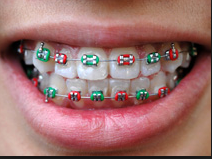 Update techniques: Our team keeps up to date with the latest industry techniques by attending yearly continuing education courses. This means that as a team we can provide you with the most current orthodontic treatment services available. We are committed to staying current with the latest procedures, guidelines, techniques and equipment. When you visit our office, we want you to feel confident that your health and the health of your family are protected.
Customer Service: Our practice prides itself on being customer-focused and we strive to offer our patients over the top customer service. For this reason from time to time during your treatment, we may ask you to participate in surveys or focus groups to find out how we can better serve you. If at any time during your treatment you are dissatisfied or have a suggestion on how we can improve our services please let us know.
Fun
Yes, orthodontics can be fun! We understand that orthodontics is not always considered "fun" so in our practice we have attempted to change that thinking by providing more than just quality treatment. We provide our patients with the following during treatment time: Contests for both patients and parents, theme weeks, patient appreciation parties, bonuses for good oral hygiene, and cooperation, video games, current magazines, complimentary coffee and juice, practice tee-shirts, and most important a qualified and friendly staff who loves what they do and wants the best for you and your child. We invite you to come in and see how fun orthodontics can be. When you or your child becomes a patient in our office you become a part of our orthodontic family.
Customized Payment Plans
Orthodontics is one of the best investments you can make in yourself or your child's future. To help you fit this investment into your budget, we offer a variety of payment methods.
In-house financing with no interest 25% down and the remaining balance paid over your treatment time
Outside financing that offers no down payment and low monthly fees paid over your treatment time
Payment in full with a courtesy bookkeeping discount
Monthly Direct Debit Services
Automatic Credit Card payments (all major credit cards accepted)
We accept most major insurance plans and will fill out the necessary paperwork for you
Our treatment coordinator will be happy to explain all the financial options to you and work with you on customizing a payment plan that fits your individual needs.